After months of speculation, a rep for Ben Affleck and Jennifer Garner has announced the Hollywood power-couple has decided to divorce.
Ben and Jen Divorce
Affleck, 42, and Garner, 43, announced their divorce just one day after their 10th wedding anniversary with this statement:
"After much thought and careful consideration, we have made the difficult decision to divorce. We go forward with love and friendship for one another and a commitment to co-parenting our children, whose privacy we ask to be respected during this difficult time. This will be our only comment on this private, family matter."
After meeting in 2001 on the set of "Pearl Harbor" and starring alongside each other in the 2003 movie "Daredevil," the two were married in 2005. They share three children: Violet, 9, Seraphina, 6, and Samuel, 3.
According to Affleck, he fell in love with Garner on the set of "Daredevil."
"That's where I found my wife," he said in a Playboy magazine interview. "We met on Pearl Harbor, which people hate, but we fell in love on 'Daredevil.'"
The couple got engaged in April 2005 and married only two months later in a private ceremony held in Turks and Caicos. At the time of their wedding, Garner was four months pregnant with their daughter Violet.
Children Change Marriage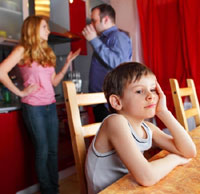 The changes that come to a relationship after a baby is born are unavoidable and often times unspeakable. You might have believed that the newest addition would fit neatly into your current life. Not so much. Once a baby enters the picture your entire world will be changed by someone that needs you constantly, and that includes a big change in your relationship.
Garner recently opened up to Yahoo! Parenting about how having children changed the couple's marriage:
"You just go on a ride together because you don't know who you're going to be when you first have a baby and you don't know who [your partner] is going to be. You have to just hang in there while you figure it out — and have a lot of patience for each other."
She went on to tell InStyle:
"When we had our first [child], we had only been together a year. We were babies. It happened so fast, I hardly remember what we were like before the kids got here."
In that same interview she also said she and Affleck had a "mindful" marriage.
"You can't expect to be courted all the time, and I don't want to court him right now; I don't have the energy!" Garner said. "But we're definitely in a very mindful place where we're making an effort to be together, do things at the same time, and be loving."
For his part, Affleck made headlines when he accepted his best picture Oscar in 2013 and thanked his wife for "working on our marriage," adding "there's no one I'd rather work with."
Divorce Timing
Common times of year for divorce are in January (often termed the "divorce month") and right after school lets out for the summer. Often times parents seek to hold it together through the holiday months because of the fact that it's already such a stressful time. In terms of the summer break split-up, it often makes sense to re-locate (if necessary) over the summer so that children can start a new school at the start of the school year. So it makes sense that this would happen around this time, in spite of the fact that the two just had their 10th wedding anniversary.
Mediation
According to a source close to the couple, Affleck and Garner are using a mediator to work out the divorce. The source had this to say: "This isn't going to end up in a dramatic court case, they are trying to resolve it as quickly and easily as possible. Ben and Jennifer have been separated for more than six months. They have been seeing counselors for years. The situation is that people change and they grow apart."
Mediation is often a successful alternative for couples that are able to negotiate about aspects of their marriage, including marital property division, and child custody arrangements. During mediation, the couple sits down with a team of lawyers (each spouse has their own), and other professionals, often including a financial analyst, in order to work out an agreement that suits both spouses.
It seems that Ben, who has already been staying in hotels over recent months, will live on the property of their Brentwood marital home. He will not share the main house. It's unclear if this is a permanent or temporary arrangement.
Child Custody and Visitation
There are various types of child custody: physical and legal, sole and joint.
Physical Custody: a parent has the right to have a child live with him or her.
Legal Custody: a parent has the right and the obligation to make decisions about a child's upbringing.
Sole Custody: a parent has either sole legal custody or sole physical custody of a child. Typically sole custody is only awarded to a parent if the other parent has been deemed unfit because of alcohol or drug dependency or charges of child abuse or neglect.
Joint Custody: when both parents do not live together but share the decision-making responsibilities for, and/or physical control and custody of, their shared children. Joint custody can be:
joint legal custody
joint physical custody (where the children spend a significant portion of time with each parent), or
joint legal and physical custody.
Courts tend to award joint custody because it is often in the best interest of the child. In a joint custody arrangement parents work out a schedule based on work requirements, housing arrangements, and the children's needs. If the parents are not able to come to an agreement on a schedule the court will impose an arrangement. A common custody arrangement is for a child or children to split weeks between each parent's house or apartment. Other joint physical custody arrangements can be:
alternating months, six-month periods, years or
spending weekends and holidays with one parent and spending weekdays with the other.
Another type of custody arrangement is called "bird's nest custody" or "nesting." This is when the children stay in the family home and the parents take turns moving in and out. During the time away from the children they live in a separate apartment or home of their own. Perhaps this is what Ben and Jen will agree to seeing as Ben will continue living on the couple's marital estate.
Co-Parenting
When it comes to sharing parenting duties, Garner had this to say:
"For better or worse, I tend to be the one who says, 'This is what needs to happen.' I know who wants what lunch, and I've done all the school paperwork and filled out the emergency cards. Ben doesn't know that stuff exists," she said.
"He is in charge of laughter. No matter how much I tickle them or toss them or chase them around, it's not the same. If I'm the slow, steady drumbeat, he's the jazz."
Finding a way to co-parent after a divorce can be difficult, but can be successful as long as both spouses agree to keep the best interests of their children in mind. No doubt that Ben and Jen will be successful with this.
Signs of Trouble
There was much speculation after Affleck's 2013 Oscars acceptance speech for "Argo." During the speech he alluded to issues in the marriage, saying to his wife as she sat in the audience, "I want to thank you for working on our marriage for 10 Christmases. It's good. It is work, but the best kind of work, and there's no one I'd rather work with."
Marriage can be difficult. As two people work to create a life with each other, it can be hard to reconcile his or her own personal goals with the goals of his or her spouse. While it's always encouraged that you try to salvage your marriage, if possible, with the help of a therapist, there are times that a marriage will end in divorce.
Working with a Divorce Attorney
Divorce can be overwhelming for so many reasons, not just emotionally, but also financially, and legally. You will want to work with a certified family law attorney like the ones at the Law Offices of Korol and Velen, Certified Family Law Specialists. If you are facing a divorce, you should work with a divorce attorney that will take a vested interest in your specific situation and advise you on what you might face in a divorce regarding property division, child support and custody, and alimony. They will be able to advise you on your options. A divorce attorney will provide support and guidance as you work towards ending your marriage.
For advice on divorce, you need the expert law firm of Law Offices of Korol and Velen, Certified Family Law Specialists.