After over a year of a bitter divorce battle, billionaire hedge fund manager Ken Griffin and his wife Anne Dias Griffin have reached an out of court settlement.
Griffin Divorce Finally Settled
Just two days before the case was set to go to trial, billionaire hedge fund manager Ken Griffin, 46, and wife Anne Dias Griffin have finally been able to come to an agreement. The settlement comes just a little over a year from when the couple first filed for divorce, citing irreconcilable differences, in July of 2014.
Lengthy Separation
The Griffin divorce followed a lengthy separation, which is when two people decide to live separately before finally filing a formal divorce.
Legal separation is a great tool for spouses that are unsure about divorce because it allows couples to live apart and take a "break" if needed, while also ensuring that each spouse's legal rights are protected.
Legal Separation
A legal separation is often the first step towards divorce. A couple is still technically married during separation, thus allowing them to live separately while retaining legal rights to property, child custody, and other agreements. Legal separations also allow spouses to maintain their married legal status in order to still receive health care or other rights.
Legal separations can also be called: "judicial separation", "separate maintenance", "divorce a mensa et thoro", or "divorce from bed-and-board." All these terms refer to the legal process by which a married couple formalizes a de facto separationwhile remaining legally married.
Legal Protection
Many people choose to go through with a legal separation as a way to protect themselves during the separation. Signing a formal legal separation agreement is a smart way to do this. This legally binding agreement decides all aspects of a marriage, including: child support and visitation, property division, and spousal support. Even if a legal separation does not end in a divorce, it is still a smart decision to protect yourself during this time.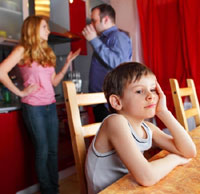 What's Decided in a Legal Separation Agreement?
The following should be contained in a legal separation agreement:
Child Related Decisions
Child custody and visitation, as well as child support can be decided as part of the legal separation agreement. One spouse is able to ask the court for a protective order if he or she feels the other spouse is a threat to the child.
Residency Requirements
To obtain a divorce, one of the spouses must have resided in the county where the action is filed for at least three months and within the state for at least six months prior to filing. a legal separation does not have these requirements, but should you decide to move forward with divorce you will need to meet the residency requirements for divorce.
Immediate Effect
Legal separation takes effect immediately after it has been ordered.
Alternative
California offers another option for a separation agreement that does not require court involvement.
Finality
Legal separation does not mean the termination of the marriage like divorce does. Both spouses are still considered as legally married.
Formal Agreement
If you and your spouse have decided on a legal separation, you should have an attorney draw up a legal separation agreement that will be legal and binding, while also offering you some form of legal protection should your spouse fail to live up to his or her obligations. This document will also hold up in court.
Included in Legal Separation Agreement
Spousal Support – Decisions on spousal support can be made at this time and listed in the legal separation agreement.
Benefits – With legal separation spouses can retain certain benefits that were available during the marriage, such as health insurance.
Home – It should be decided at this time who will pay for the home, or if the home will be sold. You should also outline maintenance of the home, such as utilities and lawn care. The agreement should include information regarding who is able to live in the home.
Joint Accounts – Most couples share joint checking, savings, and credit accounts. A legal separation agreement outlines who has access to those joint accounts. You might also decide to close these accounts. Each spouse will need to obtain their own personal accounts. You will also want to include who will be paying the remainder of debts on these joint accounts.
Protection from Acquired Debt – A legal separation agreement will shield you from being responsible for debt acquired during the time of your separation. These laws vary by state, so be sure to work with a family attorney when drafting this agreement. They will be able to advise you on your legal rights when it comes to protecting yourself from acquiring more debt because of your ex.
Legal Separation as an In-Between Step To Divorce
Though legal separation is not a required step for divorce, you might decide to legally separate before your divorce. Legal separation might be a good decision and step to take if you want to cool off.
Cooling Off Period
A legal separation can provide clarity for couples on how assets will be handled. It can provide for time and a "cooling" off period during which a couple can decide on if they truly want to divorce. Some states require that couples be separated for a period of time prior to being formally divorced. Other states, like Delaware, Florida, Georgia, Louisiana, Mississippi, Pennsylvania, and Texas, do not recognize legal separations. In those states you are able to file for temporary orders as a way of protecting yourself during the time between separation and divorce.
Some legal separations do not end in divorce. Sometimes couples decide to reconcile after a period of legal separation. In these instances, nothing needs to be decided legally. Nothing needs to be decided for the couple to continue their marriage.
If a couple does not reconcile, and wish to proceed with a divorce, they must file for an official divorce.
Drafting a Legal Separation Agreement
Working with a lawyer can be helpful when drafting a legal separation agreement. They are able to advise you on assets that will need to be considered and that will eventually need to be divided. Working with an attorney can help ease this tough period. A family law attorney will be able to help you through various aspects, including drafting a separation agreement and decisions on children, determining spousal support, and dividing marital property should you decide to divorce.
Expensive Lifestyle and Spousal Support
According to Forbes magazine, Ken is the 69th richest person in America with a net worth of $7 billion. He heads the Citadel hedge fund. And according to court documents, Anne claimed his gross earnings are close to $100 million a month.
This divorce has shed light on the couple's expensive lifestyle, including an alleged $1 million budget for child-related expenses that include household and childcare staff.
And at the heart of the couple's inability to settle is the question of the 2003 prenup that Anne asserts that she was coerced into signing. The signed prenup entitled Anne to $1 million for each year the couple was married in addition to a $22.5 million lump sum in addition to joint ownership of the couple's primary residence – a penthouse in Chicago. Anne maintained that she was forced into signing just a day before the couple's 2003 wedding.
Prenuptial Agreements
It's always advised that a couple decide on a prenuptial agreement at least 3 to 6 months prior to a marriage, in order to give the couple time to come to an agreement they both feel comfortable with. There's a wide range of what can be included in a prenuptial agreement. It should be flexible enough to accommodate the couples' wants, while also following legal guidelines.
What Can be Included in a Prenuptial Agreement
A prenuptial agreement can include the following:
(a) how property will be divided on divorce;
(b) whether or not specific items should be considered community property or separate property;
(c) who will retain ownership of the marital residence;
(d) who will be responsible for premarital debts;
(e) how property should be distributed upon death;
(f) most States want alimony obligations to be included
(g) what are the financial responsibilities during the marriage;
(h) which state the prenuptial agreement is under. If this is not clearly stated, the prenuptial agreement will be considered under the state where the divorce is taking place, not the marriage;
(i) how disputes regarding the prenuptial agreement will be resolved; and
(j) sunset clause. This allows that the prenuptial agreement will not be valid if the couple is married for a certain number of years.
What Cannot be Included in a Prenuptial Agreement
There are limitations to what can be contained in prenuptial agreements. A prenuptial agreement cannot include the following:
(a) custody of children;
(b) visitation right to the children;
(c) child support;
(d) anything "illegal";
(e) anything "unconscionable";
(f) anything thought to encourage divorce.
While most states allow prenuptial agreements to outline alimony arrangements, if a judge believes these arrangements to be unjust, a court will be allowed to invalidate the alimony provisions. This usually happens if there is great disparity between spouses' incomes.
Working with a Family Law Attorney
Working with a family law attorney on putting together a prenuptial agreement is a good idea. It's also important that you and your soon to be spouse both seek separate legal counsel for this agreement. This will ensure you both reach an agreement that is fair to each other, while also allowing you full disclosure without feeling awkward or uncomfortable about asking for what you want should your wedded bliss turn to wedded miss.
Still Left TBD
According to Ken, he has already claimed more than $35 million in accordance to the prenup and has also denied that Anne was coerced into signing the document.
The results of the decision have not been made public, and we've still yet to see if Anne will be able to relocate her children to New York city, or if she will receive a larger share of her husband's fortune.