Actress Drew Barrymore recently split from husband Will Kopelman and is dealing with it the best way she can – by putting her kids first.
Drew Barrymore Puts Kids First After Divorce
Divorce is a difficult situation for anyone and being in the spotlight, like Drew Barrymore is, can only heighten it. According to a source close to the couple, after four years of marriage, "They wanted different things. Sometimes you want so badly to have what you didn't have and then when you get it, it's not exactly what you thought it would be."
This story is not an uncommon one. There are numerous reasons people seek divorce, including the following:
Getting in for the wrong reasons: money, pressure, because marriage is a "band-aid" for a soured relationship.
Lack of individual identity.
Getting lost in the "mom" and "dad" roles. It's not uncommon for old couples, whose kids have flown the nest, to realize that they no longer have any shared interests. This is the main reason why the grey divorce rate has grown over the years.
The intimacy disappears.
Infidelity.
Unmet expectations.
Financial issues.
Inability to see eye-to-eye.
Time with Friends
Like so many others that experience divorce, Barrymore has also turned to her friends, including Cameron Diaz and Gwyneth Paltrow, to help her through this tough time. "I think good women change your life. Girls were my original family. I didn't grow up traditionally with, like, that dining room table sort of setting, my girls were my family and I love my journey and my destiny is to raise two daughters."
She went on to add, "I think that the girls that I know, we work hard on our friendships, we're not, like, fair-weather friends. We have growing pains. We have moments where for many years we've earned our friendship… girlfriends are not just a lightweight thing, it's pretty deep."
When it comes to having a girl's night out, Barrymore explained, "Oh, yeah, definitely wine, food — we're, like, all eaters, big eaters. They just work out more than I do… So they, like, burn it off and I'm sitting there, like, two weeks later going, 'Why do I look bloated?'… Having a six-pack is never gonna happen in this lifetime, like, bikini season? I'm, like, 'Bikini season?' I'm, like, 'Try muumuu season!'"
Co-Parenting with Uncoupling
Co-parenting is a crucial part of ending a marriage and it's important that you work out a co-parenting relationship with your ex if you two share children.
What is co-parenting and how can you do it effectively? It's often the child or the children that take it the hardest when it comes to divorce. Co-parenting is a completely new way of living your life. You might need to consult a therapist or lawyer to work out an arrangement. Regardless of what you decide, you're going to have to dig deep and find an approach to this new way of life.
Kids Interests First
To be a successful parent, and thus "co-parent" you will need to put child's best interests above your own, such as Barrymore has striven to do. This means that you will need to forge an amicable relationship with your ex. You two don't need to be best friends, you just need to find a way to make this new relationship work.
This can be done in a number of ways:
Work out a method of communication – via text or email
Remove the emotion
Work out a schedule
Be flexible
Commit to cooperating
Once you have an agreement regarding your co-parenting situation, just know that it will not always be easy.
Deciding on a co-parenting schedule is key to successful co-parenting.
Choosing a Co-parenting Schedule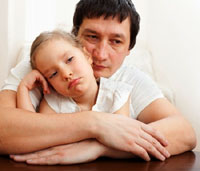 When choosing a child custody co-parenting schedule, remember that it must work for your entire family. This means factoring in your schedule and your co-parent's schedule, your kids' schedules (including school and extra-curricular activities), and even traffic – since that can greatly impact time.
50/50 Co-parenting Schedules
There are many ways for parents to divide a co-parenting schedule. One of the main ones in a 50/50 child custody schedule. The easiest way to think of this is a child half his or her time with one parent, and the other half with the other. But there are various ways that this can be divided, and remember, it should be planned in a way that will put your children's well-being first.
Types of 50/50 Co-parenting Schedules
Here are some 50/50 co-parenting schedules:
Alternating weeks: one week with one parent, one week with the next.
Alternating weeks with and Evening Visit: some families add a mid-week evening visit so the child never goes a full week without seeing either parent.
Alternating Weeks With a Mid-Week Overnight
A 2-2-3 Day Rotation: the child stays with Parent A for 2 days, Parent B for 2 days, and then spend a long 3-day weekend with Parent A. Next week, the routine flips, and the child spends the long 3-day weekend with Parent B.
A 3-3-4-4 Day Rotation: the child spends three days with Parent A, three days with Parent B, and then four days with Parent A, followed by another four days with Parent B.
A 2-2-5-5 Day Routine: the child stays with Parent A for 2 days, then Parent B for 2 days, followed by 5 days with Parent A and then 5 days with Parent B.
Joint Decision
There are many options for your co-parenting schedule. You might even decide that after a certain amount of time that your schedule doesn't work and need to switch to a new schedule. Remember that being flexible and open to new suggestions will help make your plan a successful one that will work for everyone.
Working With a Family Law Team
Divorce can be an emotionally difficult time. An attorney can help. An attorney will be able to help you through various aspects, including drafting a separation agreement, decisions on children, determining spousal support, and dividing marital property should you decide to divorce. Your attorney will also be able to advise you on your state's specific laws regarding property division, child support, and alimony.
If you decide to hire an attorney to help with your divorce, it's important to choose one that will be a good fit for you and your situation. When considering a lawyer for a collaborative divorce, you'll want to align yourself with one that will represent you in the way you want to be represented. That can either be in an aggressive fashion, or more laid back. You will want to look at your situation and all the aspects of your marriage that will need to be decided and agreed to. A lawyer will be able to advise you on all the things you might not be aware of. This includes marital property division, child custody, and how these decisions will also affect you when it comes to tax season. They can advise on co-parenting schedules and how to work out child custody and alimony agreements. Working with an attorney will help you receive a fair divorce settlement.
Law Offices of Korol and Velen, Certified Family Law Specialists
6300 Wilshire Blvd., Suite 1430,
Los Angeles, CA 90048
Phone: 323.653.1600