It seemed Sherri Shepherd's divorce was finally settled, but now a Pennsylvania appeals court has upheld a surrogacy contract that says the television personality must pay child support for a child born to a surrogate mother.
Sherri Shepherd To Pay Child Support
The former The View host has been deemed legally responsible for a child born to a surrogate she and ex-husband Lamar Sally hired before their divorce.
Shepherd had previously sought to have a contract voided and her name removed from the child's birth certificate. But a Pennsylvania appeal court upheld the previous decision, which means that Shepherd will continue paying the $4,100 a month in child support to Sally, a writer and substitute teacher who is currently raising the 1-year-old boy in Los Angeles.
"She doesn't want to be part of his life. It's all good," said Sally. "I'm going to be parent enough for the both of us."
Contentious Divorce
Shepherd's and Sally's divorce got nasty when Shepherd first challenged the surrogacy contract. The couple had paid close to $105,000 to a Philadelphia surrogate to carry the child to term via a procedure that had combined Sally's sperm and a donor egg.
At the time, the couple was living in New Jersey, and had attended the surrogate's initial medical appointments. When the marriage faltered, in what was the second trimester of the pregnancy, Shepherd had a change of heart when it came to mothering the child.
Sally publicly accused the actress of refusing to want to have anything to do with the baby that was already on its way.
"I don't understand why Sherri can say I duped her into this or that she is not responsible for this child," said Sally at the time. "It's mind-boggling to me."
Birth Certificate
The boy was born in August 2014 and the birth certificate listed the surrogate as the mother, instead of Shepherd. Once Sally moved to Los Angeles, California authorities sought child support payments from the surrogate, according to Sally's lawyer, Tiffany Palmer.
The surrogacy agency that handled the couple's pregnancy has praised the most recent decision that will make Shepherd the legal mother listed on the birth certificate.
"Surrogates don't want to feel that someone could want a baby and then just back out. The surrogate is not the mother," said Melissa B. Brisman, who owns Reproductive Possibilities.
Pennsylvania courts had previously never ruled on the validity of surrogacy contracts, which some states have refused to uphold, Palmer said.
"It's a tremendous relief to many people," she went on to say.
"(Shepherd) does not dispute that she freely entered into the gestational carrier contract," the Superior Court ruling said. "Baby S. would not have been born but for (her) actions and express agreement to be the child's legal mother."
Child Support
Child support can become a large issue during a divorce. It is a mandatory decision that must be made during any divorce that involves minor children. Divorce petitioners must include an order for child support even if one parent is unemployed or cannot be located.
State laws govern how much child support needs to be paid. This amount is based on each parent's income and the amount of time he or she spends with the children. The guidelines also provide for additional amounts that are incurred for the following:
Child care, such as day care

Health care and health insurance

Special educational needs

Travel-related visitation
While the state has a guideline regarding amounts that need to be paid, parents are able to increase or decrease the amount if the following conditions are met:
Both parents acknowledge they have been fully informed of their rights under state law and have agreed to an amount of child support that needs to be paid,

Both parents declare the agreed upon amount is in the children's best interests and will adequately meet their needs, and

For welfare recipients of child support, the right to support has not been assigned to the county, and neither parent has a public assistance application pending.
While parents may decide on their own how child support will be rendered, if the case has gone to trial, it is up to the judge presiding over the divorce to make a final child support decision. A judge is free to deviate from the state's guidelines as they see fit.
Modification to Child Support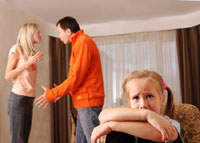 Child support orders can be modified at any time. Often times unforeseen circumstances or income changes are reasons to revisit child support payment amounts. Either party is able to petition for a change to the amount, and if both parties agree, all they must do is agree in writing to the changed amount. If you are seeking to change the amount after the divorce is decided, it's advised that you work with an attorney to petition for a change, unless you are able to agree to an amount with your ex.
Child Support Issues
Child support issues are faced by many divorced families. Regardless of which parent is paying, it seems that child support can always be a contentious part of a divorce decision.
Child support and custody issues are obviously difficult to go through for both parents and children. Most people generally agree that children need to be taken care of and that their needs should come before the needs of their parents. However, not everyone in Los Angeles who has been ordered to pay child support is willing to do so; and others simply aren't able.
Although a parent's first reaction might be to turn to a lawyer when an ex spouse won't pay child support, there might be other measures to try first. Sometimes simply talking with the delinquent parent can make a big difference. If a person needs to seek the advice of an attorney because of a serious situation then he or she should do so. However, he or she should consider the gravity of the matter before making that decision.
Another good strategy to take when an ex spouse won't pay full child support is to ask him or her to pat at least some of the monthly amount. If the parent who owes money really is broke then it could be better for everyone involved if the amount were reduced.
When a parent is behind on child payments or won't make them it is important to remember these tips, which can possibly make a difference. However, sometimes, the only option people have is to turn to a family law attorney who has the necessary experience to help.
Enforcing the Child Support Order
One of the most successful ways to collect child support is by working with a lawyer so that a court can order that the amount be withheld from the obligated parent's paycheck. What this means is that a court will require the employer of the obligated parent to withhold the money from the obligated parent's paycheck and send it to the state child support office.
For this to happen, a court and child support office will need to know where the obligated parent lives or where he or she works. If this is not known, you will need to work with a lawyer and other state agencies such as the Department of Motor Vehicles to locate the parent. You might also want to work with the Federal Parent Locator Service. A lawyer will be able to help you pursue this.
Here are some additional way that child support can be collected and enforced:
Denial of passport
Interception of federal payments
State liens on property
Withholding of tax refunds
Reporting of child support debt to credit bureaus
Suspension or revoking of drivers, professional, occupational, and recreational licenses
Child support decisions can be complicated, especially when dealing with a parent that does not feel like they are legally responsible to a child, such as Sherri Shepherd. Surrogacy can only make the issue more complicated. Because of that, and the fact that child custody payments can be hard to enforce, it's important that you work with a divorce attorney.
Working with a Divorce Attorney
If you are facing a divorce, you should work with a divorce attorney that will take a vested interest in your specific situation and advise you on what you might face in a divorce regarding property division, child support and custody, and alimony. They will be able to advise you on your options. A divorce attorney will provide support and guidance as you work towards ending your marriage.
For advice on divorce, you need the expert law firm of Law Offices of Korol and Velen, Certified Family Law Specialists.