---
Can I File for Divorce Online?
We can do practically anything online these days. It makes sense that if people can start a relationship via their smartphone, that they can also end a relationship, or their marriage through the same device, right? But should you go for an online divorce?
Is Online Divorce Legal?
Online divorces are certainly legal, though they are not always recommended, especially if you and your spouse are facing a contentious divorce. If you and your spouse cannot agree on all major issues, then it's best that you involve an attorney.
Getting an Online Divorce With Wevorce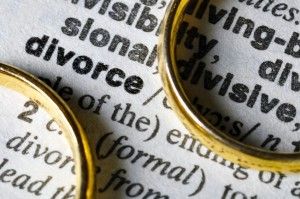 Couples can now get divorced on Wevorce, which offers a step-by-step approach that guides families as they come up with a divorce settlement. The program has been designed to identify 18 divorce archetypes that allows the program to predict and customize (with 97% accuracy) the steps each divorcing couple will need to take.
Wevorce was created by Michelle Crosby, a lawyer with a mediation certification from Harvard University, with the goal of redefining the divorce experience, which can end up being nasty for many.
"As an attorney, I know the legal process. But going through my own divorce, I was aware of the uncertainties of life after marriage. With Wevorce, I wanted to redefine the experience," explains Crosby. It's not about a quick fix or a cheap alternative. We created a productive online experience that doesn't waste your family's time and money. Questions get answered. Needs are defined. Plans get negotiated. So you are ready to begin again. It's your divorce designed by you."
So, Should You File for Divorce Online?
While Wevorce might be successful for couples that are able to work together, if your divorce is really hostile, you'll want to work directly with an attorney to get a traditional divorce.
The necessary steps for obtaining a traditional divorce will be dependent on the particulars of your relationship. It's important to remember that during divorce, all the agreements will affect the rest of your life. Because of this, you'll want to make sure you've crossed all your Ts and dotted all your Is. For this reason alone, it might make sense to hire an experienced attorney. "When you look at divorce it's the rest of your life," says Slowiaczek. "It's like a wedding, and people don't think twice about spending $6,000 to $8,000 for flowers or $10,000 for a honeymoon."
The dissolution of a marriage in which the parties have been married for a short period of time, have no children, and little property or debts will most likely be less involved than a divorce where the couple has been married for a long period of time, shares minor children, or where there is significant property or debt to be divided. The question of if both parties are seeking the divorce will also determine the ease at which they are granted that divorce. A partner not wanting the divorce might respond in a way that allows them to prolong the process. If a couple can both agree to the divorce the process can be much smoother and quicker. This also applies to the agreement process because if a couple is bogged down with fighting and disagreements over everything, the process will be much slower.
Click here to learn more about the traditional divorce process in California.
Working With an Attorney for Divorce
If you are facing a divorce, you should work with an attorney that will take a vested interest in your specific situation and advise you on what you might face in a divorce regarding property division, child support and custody, and alimony. They will be able to advise you on your options. An attorney will provide support and guidance as you work towards ending your marriage.
Have questions about divorce in California? Our Los Angeles attorneys can provide expert advice. Contact us online or call us at (818) 962-4669.