As the holiday season comes to a close, it seems a new season is just beginning – the season of divorce.
It's Almost "Divorce Month"
Over the past years, January has been dubbed "divorce month," as a result of the surge of divorce filings that arrive every first Monday of the year and continue through the end of the month.
"The surge happens on Divorce Monday," according to James McLaren, president of the American Academy of Matrimonial Lawyers. "We see a significant increase in people seeking out divorce advice and, ultimately, filing. The number of filings is one-third more than normal. That begins in January and probably goes into early March."
Is there a reason behind this? Yes, there is: the holidays.
Unhappy couples are often reluctant to ending a marriage during the holiday season. According to McLaren, "It doesn't look very good to sue your spouse for divorce on Christmas Eve." People also tend to hole off until the new year as a result of the holiday court closings. "Those things are very difficult to arrange when there's only three weeks of court time available," he says. "You do not want to file a divorce case and be faced with the inability to get into court."
There are are additional emotional factors that play into the timing of divorce. According to John Nicholson, a partner at Irwin Mitchell, many people have this idea of the "last Christmas as a family." "You convince yourself that it's only right to give your kids one more holiday season with their family intact, and there's nothing wrong with that."
Available Alternative to Divorce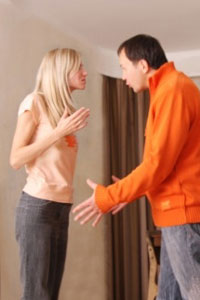 The end of the year is already a stressful time. If you are considering divorce but are unsure of the finality of it, you might decide to try a legal separation first. Legal separation is a great tool for spouses that are unsure about divorce because it allows couples to live apart and take a "break" if needed, while also ensuring that each spouse's legal rights are protected.
Legal Separation
A couple is still technically married during separation, thus allowing them to live separately while retaining legal rights to property, child custody, and other agreements. Legal separations also allow spouses to maintain their married legal status in order to still receive health care or other rights.
Legal separations can also be called: "judicial separation", "separate maintenance", "divorce a mensa et thoro", or "divorce from bed-and-board." All these terms refer to the legal process by which a married couple formalizes a de facto separationwhile remaining legally married.
Steps to Legal Separation
Here are the steps you will take to acquire a legal separation:
You (and your spouse if you are able to work together and still communicate) will need to decide on grounds for your separation: incurable insanity or irreconcilable differences that have caused an irremediable breakdown of the marriage.
Fill out a Form FL-100 Petition that includes options for with a divorce (dissolution of marriage) or legal separation. You will need to provide any and all information pertaining to minor children and property. A court will be able to make orders regarding these aspects of your marriage
If you have children under 18, you will need to complete Form FL-105/GC-120. This is a Declaration under the Uniform Child Custody Jurisdiction and Enforcement Act. It provides information to the court that will enable the court to establish if it has jurisdiction over a child. This is relevant if a parent lives in another state and has already started proceedings for child custody in that state.
Have your forms reviewed by an attorney or help-center. An attorney will also be able to advise you on all the necessary steps of your legal separation.
File Form FL-100 at your local county court and pay any necessary fees. If you receive public benefits or have low income, you might be eligible for a fee waiver. You will need to work with your local court to determine this, as well as determine what needs to be provided for them to waive the necessary fees.
Serve your spouse with a copy of the court papers. There are various ways this can be completed – either through a lawyer or a process server. There will need to be proof of the serving, which can be done through various means. An attorney can advise you on how to obtain this proof.
It's important to know that an attorney can help you with every step required for a legal separation. They will handle getting all the paperwork completed and filed.
Legal Protection
Signing a formal legal separation agreement is a smart way to protect yourself during a separation This legally binding agreement decides all aspects of a marriage, including: child support and visitation, property division, and spousal support.
The following should be contained in a legal separation agreement:
Child Related Decisions
Child custody and visitation, as well as child support can be decided as part of the legal separation agreement. One spouse is able to ask the court for a protective order if he or she feels the other spouse is a threat to the child.
Residency Requirements
To obtain a divorce, one of the spouses must have resided in the county where the action is filed for at least three months and within the state for at least six months prior to filing. a legal separation does not have these requirements, but should you decide to move forward with divorce you will need to meet the residency requirements for divorce.
Immediate Effect
Legal separation takes effect immediately after it has been ordered.
Alternative
California offers another option for a separation agreement that does not require court involvement.
Finality
Legal separation does not mean the termination of the marriage like divorce does. Both spouses are still considered as legally married.
If You Decide to Divorce
Sometimes legal separation does end in a divorce. If this is the option you decide to take, you will want to know how to obtain a divorce.
The necessary steps for obtaining your divorce will be dependent on the particulars of your relationship. The dissolution of a marriage in which the parties have been married for a short period of time, have no children, and little property or debts will most likely be less involved than a divorce where the couple has been married for a long period of time, shares minor children, or where there is significant property or debt to be divided. The question of if both parties are seeking the divorce will also determine the ease at which they are granted that divorce. A partner not wanting the divorce might respond in a way that allows them to prolong the process. If a couple can both agree to the divorce the process can be much smoother and quicker. This also applies to the agreement process because if a couple is bogged down with fighting and disagreements over everything, the process will be much slower.
1. Petition for Divorce
To start the divorce process one of the spouses must file a petition. Even if both spouses are in agreement, one of them will have to file a petition with the court asking for the divorce. This petition states the grounds for the divorce. These vary from state to state. California is a no-fault state, meaning no fault is placed on either party regardless of infidelity, etc…
2. Temporary Orders for Support and Custody
If one spouse is seeking financial support or custody of children, that spouse will need to ask the court for temporary orders for support and custody. A temporary order is usually granted within a few days of the initial petition. It remains in effect until the full divorce court hearing.
3. Proof of Service and Response
When a party files for divorce they also need to file for a proof of service of process. This document proves that a copy of the divorce petition was given to the other party. This can be done through a process server, or by a lawyer. There are numerous ways to do this and you'll want to consult a lawyer for advice on how to do this. If the parties mutually agree on the divorce, it is best for the party who files the complaint to arrange for service of process to the other party's attorney.
Once the party receives the service of process they will need to file a response to the petition. In states where fault grounds can be filed and the responding party wants to dispute those grounds, he or she needs to address it in the response. They are able to dispute the facts alleged in the grounds for divorce. Additionally, if the party disagrees with property division, support, custody, or any other issue, this should be set out in the response.
4. Negotiation
When two divorcing spouses disagree on issues they must come to an agreement that settles their differences. Often times this is done through mediation. During this process every aspect of a marriage is resolved: child custody and visitation, child support, property division and any spousal support. Working with a mediation specialist can help you receive the settlement you are seeking when it comes to dissolving your marriage. It's within your best interest to try and resolve all these issues outside of court. This will cut down on legal fees, time spent arguing, and any headaches that can come with trying to go back and forth to find an agreeable settlement. Any issues left undecided during the mediation process will have to be decided at a trial.
5. Order of Dissolution
Once everything is decided upon an order of dissolution is set forth. This document spells out how the property and debts are to be divided, what child custody and visitation schedule is, what support payments (spousal and child) need to be paid, and any other issues.
Working with a Divorce Team
If you think that January might be the time for your divorce or legal separation, you should work with an attorney that will take a vested interest in your specific situation and advise you on what you might face regarding property division, child support and custody, and alimony. They will be able to advise you on your options. An attorney will provide support and guidance as you work towards ending your marriage.
For advice on divorce, you need the expert law firm of Law Offices of Korol and Velen, Certified Family Law Specialists.