If you are considering divorce but are unsure of the finality of it, you might decide to try a legal separation first. Legal separation is a great tool for spouses that are unsure about divorce because it allows couples to live apart and take a "break" if needed, while also ensuring that each spouse's legal rights are protected.
Legal Separation
A legal separation is often the first step towards divorce. A couple is still technically married during separation, thus allowing them to live separately while retaining legal rights to property, child custody, and other agreements. Legal separations also allow spouses to maintain their married legal status in order to still receive health care or other rights.
Legal separations can also be called: "judicial separation", "separate maintenance", "divorce a mensa et thoro", or "divorce from bed-and-board." All these terms refer to the legal process by which a married couple formalizes a de facto separationwhile remaining legally married.
Steps to Legal Separation
Here are the steps you will take to acquire a legal separation:
You (and your spouse if you are able to work together and still communicate) will need to decide on grounds for your separation: incurable insanity or irreconcilable differences that have caused an irremediable breakdown of the marriage.
Fill out a Form FL-100 Petition that includes options for with a divorce (dissolution of marriage) or legal separation. You will need to provide any and all information pertaining to minor children and property. A court will be able to make orders regarding these aspects of your marriage
If you have children under 18, you will need to complete Form FL-105/GC-120. This is a Declaration under the Uniform Child Custody Jurisdiction and Enforcement Act. It provides information to the court that will enable the court to establish if it has jurisdiction over a child. This is relevant if a parent lives in another state and has already started proceedings for child custody in that state.
Have your forms reviewed by a family law attorney or help-center. A family law attorney will also be able to advise you on all the necessary steps of your legal separation.
File Form FL-100 at your local county court and pay any necessary fees. If you receive public benefits or have low income, you might be eligible for a fee waiver. You will need to work with your local court to determine this, as well as determine what needs to be provided for them to waive the necessary fees.
Serve your spouse with a copy of the court papers. There are various ways this can be completed – either through a lawyer or a process server. There will need to be proof of the serving, which can be done through various means. A family law attorney can advise you on how to obtain this proof.
It's important to know that a family law attorney can help you with every step required for a legal separation. They will handle getting all the paperwork completed and filed.
Legal Protection
Many people choose to go through with a legal separation as a way to protect themselves during the separation. Signing a formal legal separation agreement is a smart way to do this. This legally binding agreement decides all aspects of a marriage, including: child support and visitation, property division, and spousal support. Even if a legal separation does not end in a divorce, it is still a smart decision to protect yourself during this time.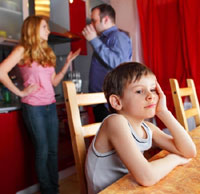 What's Decided in a Legal Separation Agreement?
The following should be contained in a legal separation agreement:
Child Related Decisions
Child custody and visitation, as well as child support can be decided as part of the legal separation agreement. One spouse is able to ask the court for a protective order if he or she feels the other spouse is a threat to the child.
Residency Requirements
To obtain a divorce, one of the spouses must have resided in the county where the action is filed for at least three months and within the state for at least six months prior to filing. a legal separation does not have these requirements, but should you decide to move forward with divorce you will need to meet the residency requirements for divorce.
Immediate Effect
Legal separation takes effect immediately after it has been ordered.
Alternative
California offers another option for a separation agreement that does not require court involvement.
Finality
Legal separation does not mean the termination of the marriage like divorce does. Both spouses are still considered as legally married.
Formal Agreement
If you and your spouse have decided on a legal separation, you should have an attorney draw up a legal separation agreement that will be legal and binding, while also offering you some form of legal protection should your spouse fail to live up to his or her obligations. This document will also hold up in court.
Included in Legal Separation Agreement
Spousal Support – Decisions on spousal support can be made at this time and listed in the legal separation agreement.
Benefits – With legal separation spouses can retain certain benefits that were available during the marriage, such as health insurance.
Home – It should be decided at this time who will pay for the home, or if the home will be sold. You should also outline maintenance of the home, such as utilities and lawn care. The agreement should include information regarding who is able to live in the home.
Joint Accounts – Most couples share joint checking, savings, and credit accounts. A legal separation agreement outlines who has access to those joint accounts. You might also decide to close these accounts. Each spouse will need to obtain their own personal accounts. You will also want to include who will be paying the remainder of debts on these joint accounts.
Protection from Acquired Debt – A legal separation agreement will shield you from being responsible for debt acquired during the time of your separation. These laws vary by state, so be sure to work with a family attorney when drafting this agreement. They will be able to advise you on your legal rights when it comes to protecting yourself from acquiring more debt because of your ex.
Legal Separation as an In-Between Step To Divorce
Though legal separation is not a required step for divorce, you might decide to legally separate before your divorce. Legal separation might be a good decision and step to take if you want to cool off.
Cooling Off Period
A legal separation can provide clarity for couples on how assets will be handled. It can provide for time and a "cooling" off period during which a couple can decide on if they truly want to divorce. Some states require that couples be separated for a period of time prior to being formally divorced. Other states, like Delaware, Florida, Georgia, Louisiana, Mississippi, Pennsylvania, and Texas, do not recognize legal separations. In those states you are able to file for temporary orders as a way of protecting yourself during the time between separation and divorce.
Some legal separations do not end in divorce. Sometimes couples decide to reconcile after a period of legal separation. In these instances, nothing needs to be decided legally. Nothing needs to be decided for the couple to continue their marriage.
If a couple does not reconcile, and wish to proceed with a divorce, they must file for an official divorce.
Drafting a Legal Separation Agreement
Working with a lawyer can be helpful when drafting a legal separation agreement. They are able to advise you on assets that will need to be considered and that will eventually need to be divided. Working with an attorney can help ease this tough period. A family law attorney will be able to help you through various aspects, including drafting a separation agreement and decisions on children, determining spousal support, and dividing marital property should you decide to divorce.